The best of both worlds - the benefits of a 'split' home loan
Many home owners think that there are only two options when it comes to a home loan, a fixed rate loan or a loan with a variable rate.
If you already have a home loan it's likely that you spent some time weighing up the pros and cons of each option, but when you've been sitting on one side of the fence for a while, it can be tempting to think that there is a better home loan out there.
There are many reasons why you might want to change your home loan. Your lifestyle and spending habits may have changed since you first took out your loan, and interest rates have fallen to record lows in the last few years.
Alternatively, you may be looking for some certainty and control over your repayments in a world that is changing faster than the latest iPhone release.
So, what if we told you that a fixed loan or a variable loan weren't your only options?
That there is a way you can enjoy the certainty of a fixed rate as well as the flexibility and extra features of a variable rate by splitting your home loan.
We may not be able to solve all the world's problems, but we can help you get a better home loan. Read on to learn more about the benefits of splitting your home loan and decide if a split home loan is right for you.
What is a split home loan?
A split home loan is a combination of both fixed and variable home loan products, 'split' across the one home loan. When you split your home loan, you have a fixed portion and a variable portion.
For example, a $500,000 home loan could be split like this:
a $200,000 variable principal and interest home loan
a $300,000 three-year fixed principal and interest home loan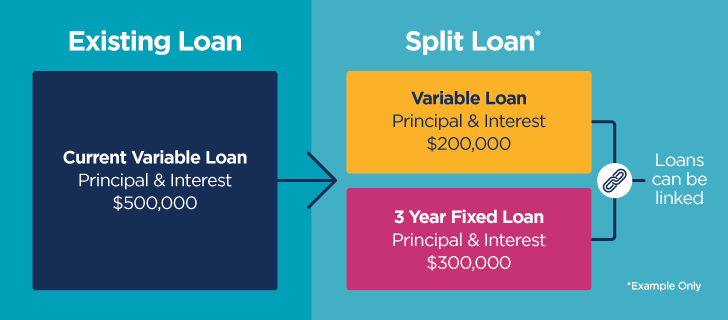 Why split your home loan?
Splitting your home loan is one way of gaining greater control over your home loan repayments and have a more personalised loan that is suited to your financial needs.
With a split home loan, you can manage the risk of an interest rate rise with a fixed portion, while also enjoying the extra features of a variable rate home loan such as an offset facility, redrawing payments if you need to, or making extra repayments to pay your loan off early.
Other benefits of splitting your home loan:
Know exactly how much your home loan repayments will be for the fixed portion
Security against interest rate rises with the fixed portion of your loan
Don't miss out on the savings if interest rates fall (for your variable portion)
Keep the extra features of a variable rate loan
Take some of the stress out of managing your household budget
Peace of mind for when you are experiencing a big life change or uncertain times.
Is a split home loan right for me?
Before you make the decision to split, it's important to weigh up the pros and cons of each loan - don't just look at the lowest interest rate, consider features and benefits of each loan too.
Comparing a few different home loans will also help you find your perfect combination.
Find out more about the benefits of fixed and variable home loans.
Things to consider when splitting your home loan
How much should I split?
Our split loan calculator can help you decide how to split your home loan.
You can enter how much of your home loan you wish to be fixed or variable and the calculator will estimate your repayments and how much your total home loan would be if you remained on a variable only home loan.
Fees
A variation fee applies if you change your CUA home loan from one product type to another. This fee covers the administration costs involved in performing the split. Only one Variation fee is charged if you decide to split and change your existing loan at the same time.
Ready to split your home loan?
Talk to us today and we can help you understand ways to maximise your home loan so you can pay it off sooner. To talk with one of our home loan specialists, call 133 282 or enquire online.
Home loans
Come home to a Great Southern Bank Home Loan. Compare fixed and variable interest rates and clever features to find the loan that's right for you.
Important information: Please note that this is only intended as a general guide in relation to issues you may want to consider when taking out a loan. It is not intended to be an exhaustive list of all relevant issues and you should take into account your own circumstances, and obtain independent expert advice where needed, before proceeding.