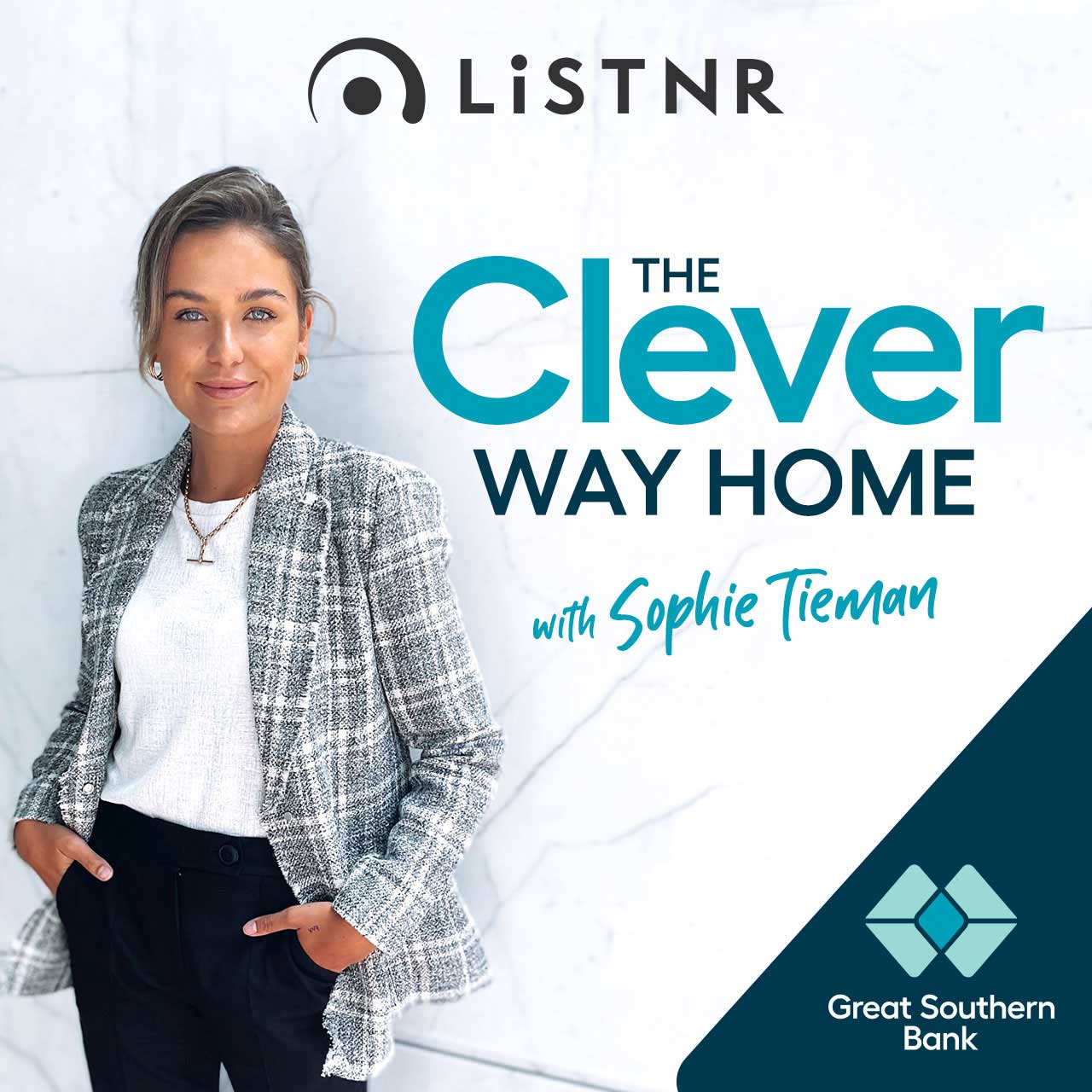 ABOUT
The home buying process made simple
Have you always wanted to own your own home, but lately you've been feeling like it's such a hard process that's just out of reach? Many young Australians are feeling this way, but you don't have to!
We've teamed up with Sophie Tieman in our new podcast series 'The Clever Way Home', to break down the often-confusing processes of buying a home. With the help of home lending experts, we'll cover topics like how do I get myself loan ready? Am I eligible for any government schemes? What happens after I put in an offer?
The Clever Way Home podcast will guide you through each step of the home buying journey to help you get your slice of the Great Aussie dream.
FAQS
Home loans explained
Want to learn more about some of the topics we've discussed in our podcast episodes? Check out these frequently asked questions.
How much should I aim to save for my deposit?
The deposit you contribute is considered the "equity" you hold in the property (obviously the higher the better).
We know that it can be hard to reach a 10% deposit, and harder to reach 20%. So, we have loan options available from as little as a 5% deposit.
Smart ways to reach your deposit goal
What is stamp duty?
Stamp duty is a state government charge or tax. The amount is based on the purchase price of the property and is different in every state and territory. Some first home buyers may get a discount or not be required to pay it at all. We can help you work this out.
What is LMI (Lenders' Mortgage Insurance)?
If your deposit is less than 20% of the property's value, most financial institutions will require Lenders' Mortgage Insurance (LMI). LMI is taken out to protect the lender in case of default. It's a one-off cost and is generally included in the total value of the loan.
Fixed interest rate vs variable interest rate loans
Fixed interest rate loans
Give you more certainty and make it easier to budget because you know exactly what your repayments will be for a set period (1, 2, 3 or 5 years).
Protect you against interest rate rises. However, if interest rates fall, you miss out on the savings.
If you decide to change banks, sell your home, or pay off your loan within the fixed period, you may be charged an early payout cost.
Variable interest rate loans
Usually give you more features and flexibility, such as the ability to make extra repayments, or the ability to pay off or move your loan without incurring an early payout cost (although you may pay a discharge fee).
Are subject to market conditions. If rates fall, it's likely your variable rate will also fall, and your loan repayments will decrease. Similarly, if rates rise, so might your repayments.
Our how to guides for every home buying stage
First Home Guarantee
Buy your first home with as little as 5% deposit. T&Cs apply.
CLEVER TOOLS
Wondering how much you can borrow?
Or perhaps you want to know what your repayments will be once you're approved? Our mortgage and home loan calculators will help you crunch the numbers so you can move right on to the fun part – finding your perfect property.
Speak to a Home Loan Specialist
Across The Clever Way Home podcast series, Sophie chats with Jason, Priyanka and Nicole – three of our home lending experts. They're here to help you kick start your home buying journey.
Jason Moussa
Senior Mobile Banker
Priyanka Saldanha
Mobile Banker
Nicole Hayes
Home Loan Specialist